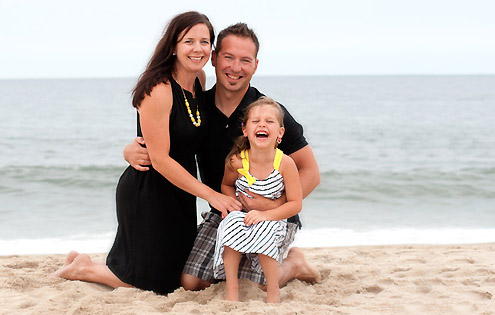 Hi! I am Kim Rosenberger. Welcome and thank you for stopping by my blog. Let me share with you a little about myself and why I am passionate not just about food, but about eating healthy..
I live in Flower Mound, TX with my wonderful husband Eric and our energetic 7 year old Sophia. In addition to being a wife and mother, I work as a part-time CT Tech. I enjoy staying in shape by doing CrossFit and I absolutely love to cook. When you have a busy active lifestyle as mine, there isn't much time for complicated recipes and slaving in the kitchen for hours.
I began to create simple healthy recipes by using fresh local foods whenever possible, and occasionally shared these meal ideas with friends. As a foodie, I was excited to show others how easy it is to make mouth-watering, appetizing healthy meals and so began my blog.
My goal is to shorten your time in your kitchen, introduce a variety of different easy recipes that will nurture a healthy lifestyle for yourself and others. Along the way I will lend some tips and tricks of the trade to educate you, and hopefully encourage you to buy local fresh foods, and make better choices in your daily diet.
Follow me on Facebook @ https://www.facebook.com/KimsHealthyEats
Follow me on Pinterest @ http://pinterest.com/kimshealthyeats
Follow me on Twitter @ https://twitter.com/kimshealthyeats