Don't let being a vegetarian keep you from eating chili this winter. Quinoa is a great healthy alternative.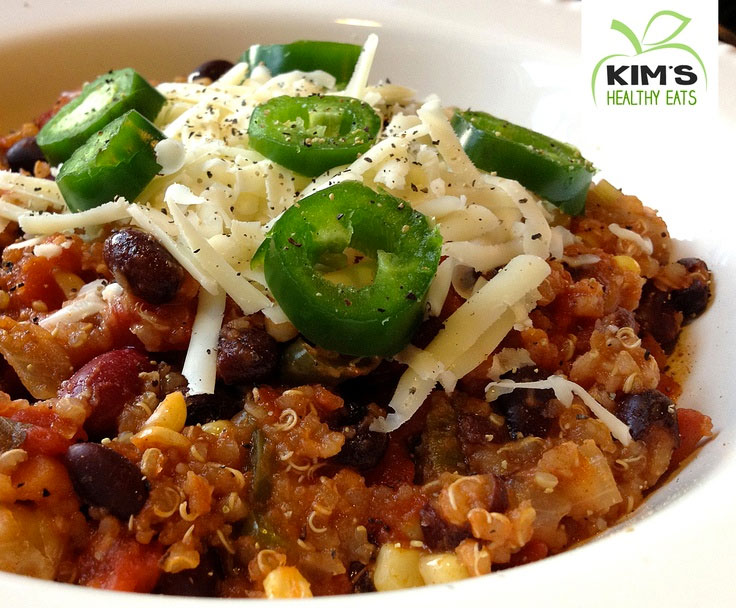 Ingredients
1/2 cup quinoa, cooked

1 cup water

1 tablespoon olive oil

1 onion, diced

3 cloves garlic, minced

1 jalapeno pepper, diced

1 large carrot, diced

2 celery stalks, diced

1 red bell pepper, diced

3/4 cup of corn

1 medium zucchini, diced

2 (15 ounce) cans black beans, drained and rinsed

1 (15 ounce) can red kidney beans, drained and rinsed

3 (15 ounce) cans diced tomatoes

1 (15 ounce) can tomato sauce

2-3 tablespoons chili powder

1 tablespoon ground cumin

Salt and black pepper to taste

Directions
Cook quinoa according to package directions and set aside.
In a large pot, heat the olive oil. Add the onion and cook until tender, about 5 minutes. Stir in garlic, jalapeño, carrot, celery, peppers, and zucchini. Cook until vegetables are tender, about 10 minutes.
Add the black beans, kidney beans, tomatoes, and tomato sauce. Stir in the cooked quinoa. Season with chili powder, cumin, salt, and black pepper. Simmer chili on low for about 30 minutes. Top with cheese, cilantro, greek yogurt, or avocado slices.

Inspired by Two Peas & Their Pod.