Healthy family meals don't need to be expensive. This dinner feeds six people and cost me about $14.00 to make.  It can also be prepared ahead of time and heated up in a few minutes. You could also add rotisserie chicken, ground turkey, or beef for meat eaters, but you really don't even miss the meat. This is also made with a simple, delicious, homemade enchilada sauce.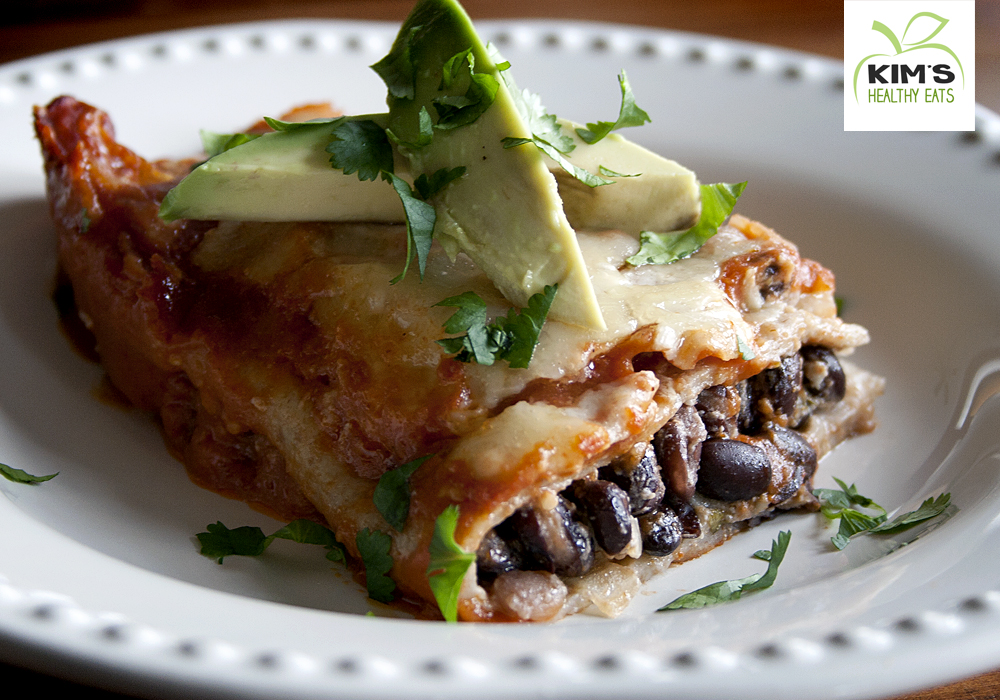 Sauce Ingredients
2 tablespoons oil or  butter
2 tablespoons flour
5 teaspoons red chili powder
1 1/2 teaspoons cumin
1 garlic clove, minced
1  6 ounce can of tomato paste
2 1/4 cups water
salt and pepper to taste

Sauce directions
Heat oil or butter in a sauce pan.
Add flour to pan to make roux.
Add spices and tomato paste. Stir until well blended into roux.
Add water gradually, stirring constantly.
Heat until boiling.
Continue simmering and stirring until desired thickened. About 4 minutes.
This sauce can be made ahead of time and stored in an airtight container in the fridge.

Ingredients
1 package whole wheat or corn tortillas
2 cans black beans drained and rinsed
2 cloves garlic minced
1 handful cilantro chopped
1  onion diced
one large red or green pepper, diced
1 small can green chilies or fresh diced  jalapenos (or all of these!)
1/2 cup sour cream or Greek yogurt
1 1/2 cups shredded Monterey jack cheese (or whatever kind you like) (divided)
1/2 lime (juice and zest)
1 Tablespoon cumin
1 teaspoon chili powder
1/2 teaspoon cinnamon (optional)
Directions
Preheat oven to 350 degrees. 

In a large pan saute onions, peppers, and garlic. Pour into a large bowl and add the black beans. Add about half of the cilantro, half the shredded cheese, sour cream or yogurt, then the lime and spices. Mix until coated.
Pour about a 1/2
cup of enchilada sauce on the bottom of an ungreased baking dish. Fill each tortilla with the black bean mixed and roll so seam side is facing down in dish. Repeat until the dish is filled. Pour the rest of the enchilada sauce over the filled tortillas. Top with cheese and bake uncovered for about 25 minutes until cheese is nice and bubbly.
Garnish with cilantro and top with favorite toppings.
Enjoy!