Soooo I totally jumped on the pumpkin spice band wagon and made pumpkin spice granola. While it's still in the high 80's here in Dallas I am trying my hardest to get in the fall spirit. Fall is the one season I miss the most since moving from the Northeast to the south. Nothing like fresh apple picking, the leaves changing, and going to a real pumpkin patch.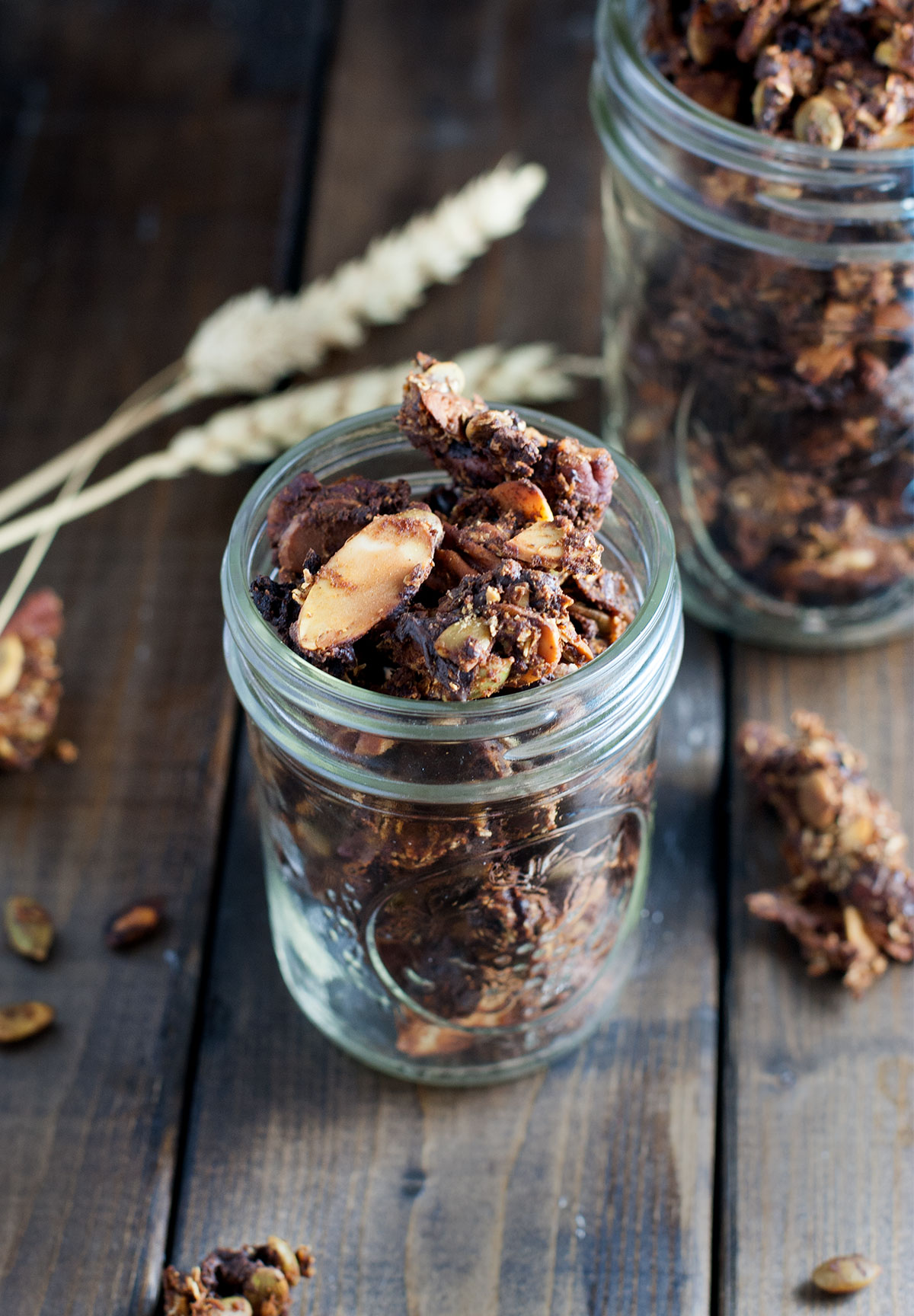 Anyway back to the granola… This stuff is seriously amazing! I love the blend of the nuts with the pumpkin seeds and the little sweetness the chocolate chips add.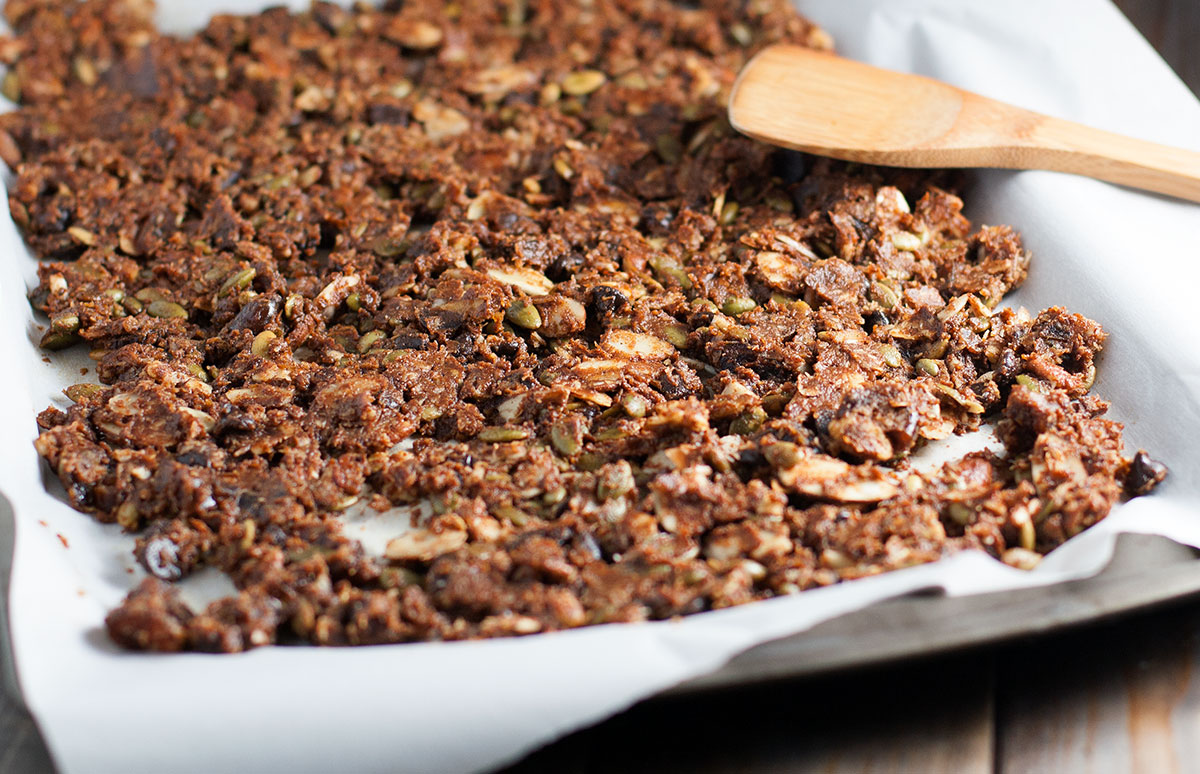 I stored the granola in an airtight container and we have been munching on it all week!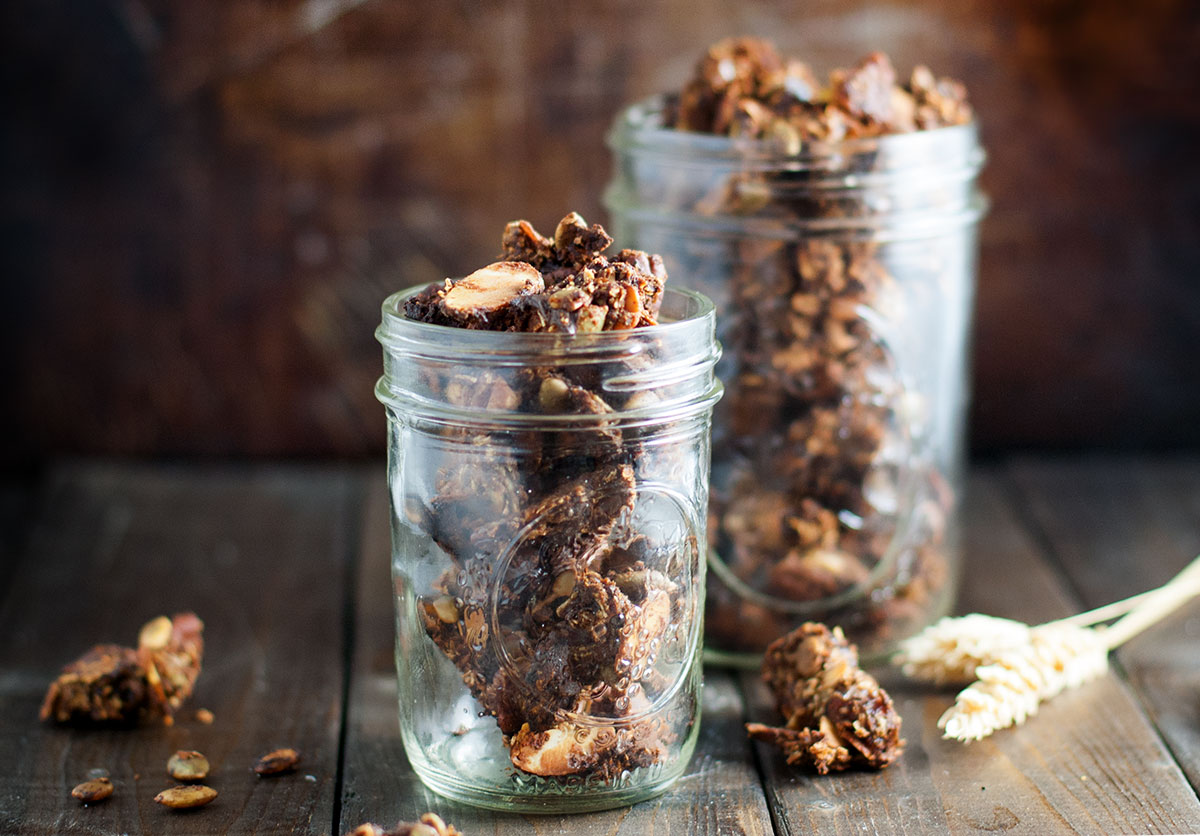 Paleo Pumpkin Spice Granola
2015-10-07 12:55:23
Serves 4
Nutrition Facts
Amount Per Serving
* Percent Daily Values are based on a 2,000 calorie diet. Your Daily Values may be higher or lower depending on your calorie needs.
Ingredients
1/2 cup sliced almonds
1/2 cup pumpkin seeds (pepitas)
1/2 cup pecans, chopped
1/3 cup chocolate chips
8-10 dates, pits removed and chopped
1/3 cup unsweetened shredded coconut (optional)
1/2 cup pumpkin puree
1/3 cup coconut oil, melted
1/3 cup maple syrup
1 teaspoon vanilla extract
2 tablespoons cinnamon
1 tablespoon nutmeg
1/8 teaspoon ground cloves
1/8 teaspoon ground ginger
pinch of salt
Instructions
Preheat oven to 325 degrees.
In a large bowl add pumpkin puree, coconut oil, maple syrup, vanilla extract, and spices and mix until combined.
Add almonds, pumpkin seeds, pecans, chocolate chips, dates, and shredded coconut and mix.
Place parchment paper on a large baking sheet and pour on granola mixture. Use a spoon to spread the mixture evenly on the baking sheet.
Place in oven and bake for about 30-40 minutes. Mix granola around halfway through to prevent burning.
Remove pan from oven and cool this will harden up the granola.
Eat by itself or pour some in a bowl and add almond or coconut milk.
Adapted from Paleomg
Kim's Healthy Eats http://www.kimshealthyeats.com/
Enjoy!