A few months ago I was lucky enough to get an advanced copy of The Paleo Kitchen written by George Bryant and Juli Bauer. I was so excited to get in my tiny apartment kitchen and try out these amazing recipes! I have made many of their recipes in the past so I new it was going to be an awesome cookbook. Well then life got in the way, we bought a house and needed to move quickly.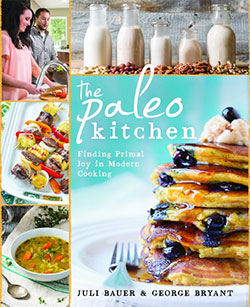 So this gorgeous cookbook was packed away. I finally got the house unpacked and was so excited when I finally found this treasure packed away in a box.
The Paleo Kitchen starts with tips on getting started on the paleo diet, then transitions into a list of seasonal list of fruits and veggies which certainly helps keeping the grocery budget in check. Then they move onto panty essentials and kitchen tools to make your life easier in the kitchen. They also discuss how to cook smarter and proper food storage. I think this is great resource for the beginner cook who may be completely overwhelmed and not sure where to start.
Now onto the recipes! I'm not sure where to start! Everything looks and sounds amaaaazing. My first recipe was the Cinnamon Chocolate Swirl Banana Bread.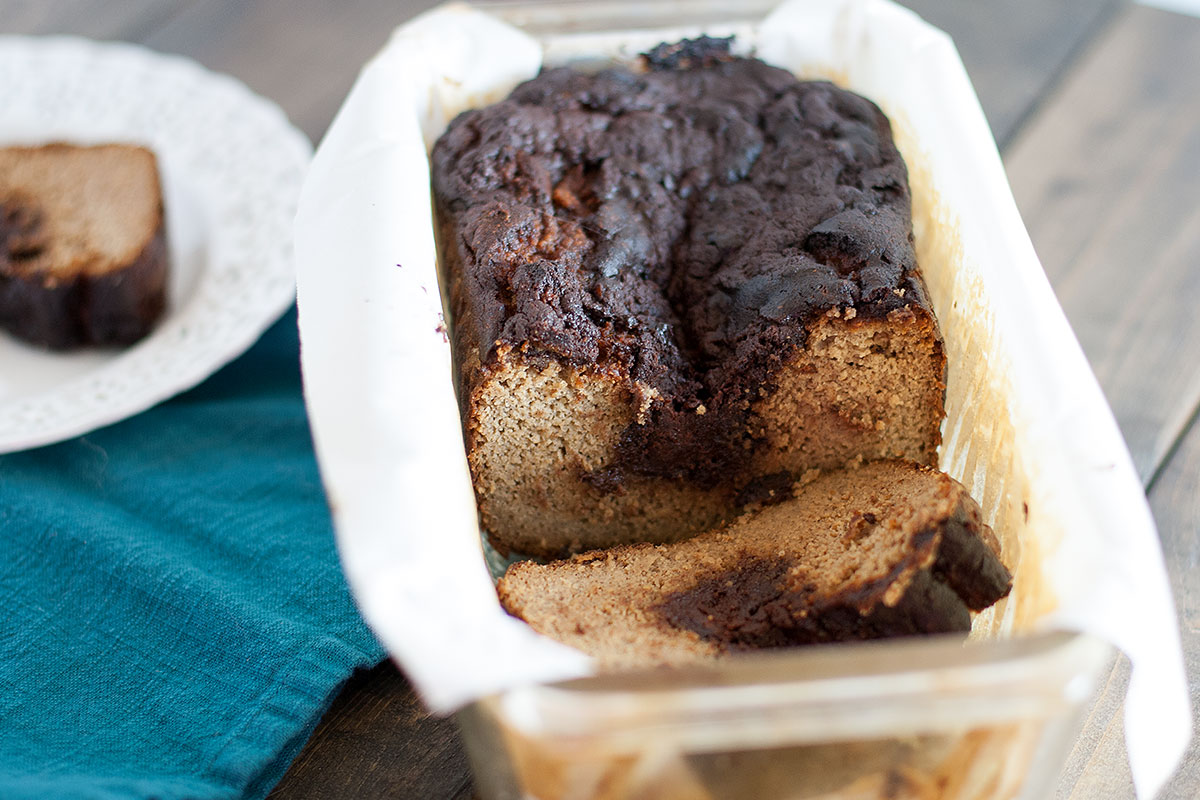 This banana bread is soooo good! It's super moist and the cinnamon chocolate swirl on top, BRILLIANT! All of the recipes are easy to follow with ingredients a that are easy to find in your local grocery store.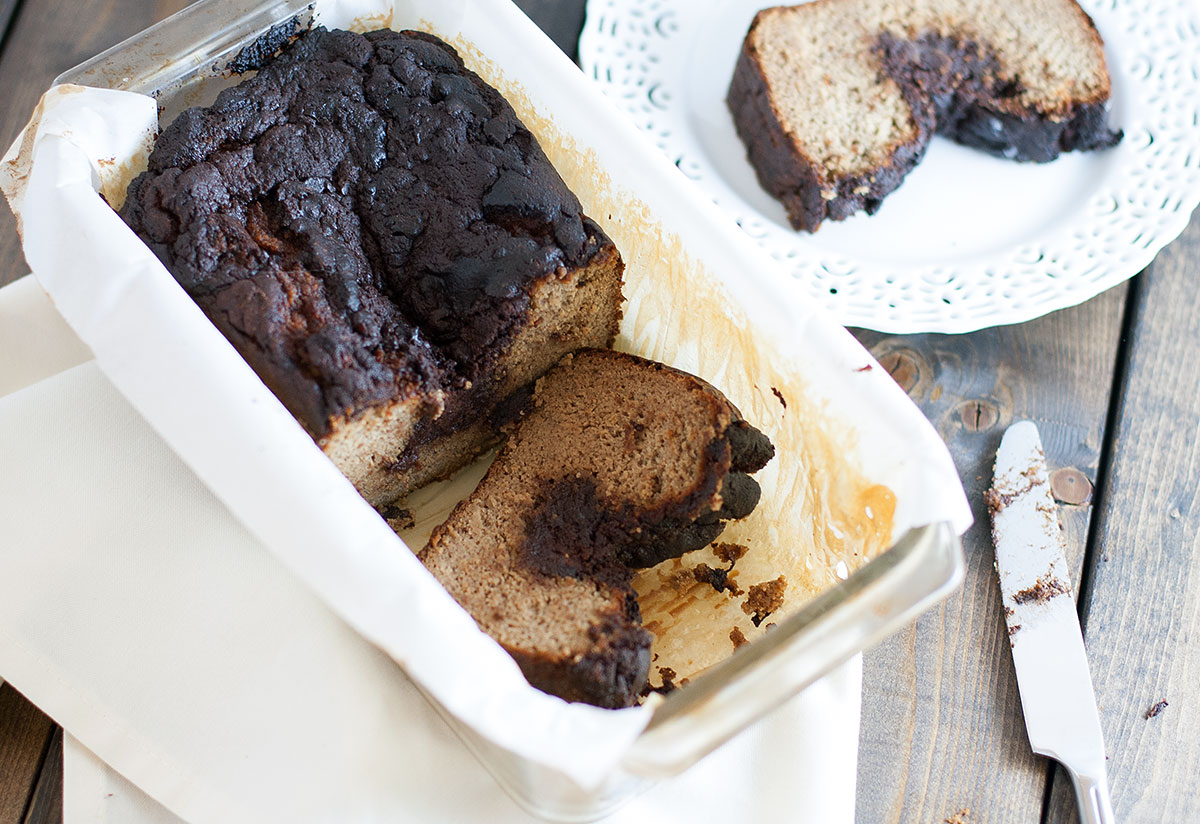 There are so many recipes in this book I can't wait to try! So if you are thinking about starting a Paleo diet, currently on the Paleo diet, or looking for low carb recipes I highly recommend The Paleo Kitchen!
Thank you George and Juli for sending me a copy! I will be sure to fill it with love and food stains!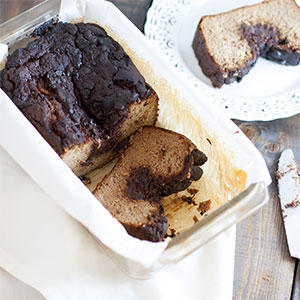 Paleo Cinnamon Chocolate Swirl Banana Bread
2014-09-28 10:37:04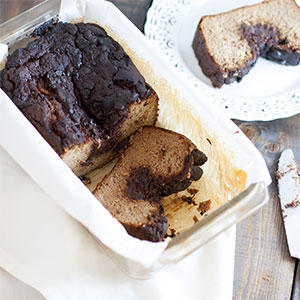 Nutrition Facts
Amount Per Serving
* Percent Daily Values are based on a 2,000 calorie diet. Your Daily Values may be higher or lower depending on your calorie needs.
Ingredients
Coconut oil to grease the pan

For the Banana Bread

4 medium bananas
4 large eggs
1/4 cup (1/2 stick) unsalted grass- fed butter
1/2 cup almond butter
1/2 cup coconut flour
1 teaspoon baking soda
1 teaspoon baking powder
1 teaspoon vanilla extract
Pinch of fine-grain sea salt

For the Swirl

2 tablespoons unsalted grass-fed butter
2 tablespoons ground cinnamon
1/2 cup Enjoy Life Mini Chocolate Chips
1 tablespoon organic honey
Instructions
Preheat the oven to 350 degrees. Grease a 9-by-5 inch loaf pan and line with parchment paper.
Combine the bananas, eggs, butter, and almond butter in a food processor or mixing bowl and mix until the ingredients are well blended. Add the coconut flour, baking soda, baking powder, vanilla, and salt and continue to mix until all the ingredients are well combined.
In a double boiler (I used a small pot, since I don''t have one) over medium-low heat, mix together the swirl ingredients. Heat, stirring often, until the chocolate has melted.
Pour the bread batter into the prepared pan and spread it out evenly. As soon as you pour the batter, pour the chocolate swirl directly on top and use a knife to swirl the chocolate throughout the loaf pan.
Bake for 45 minutes, or until a toothpick comes out clean when inserted in the middle. Remove from the oven and let cool in the pan on a cooling rack for 15 minutes before serving.
Adapted from The Paleo Kitchen
Kim's Healthy Eats http://www.kimshealthyeats.com/