Oven baked risotto. This is an easy hearty dish that can be served as a side or main dish. Almost any veggie will work in this dish. The possibilities are endless!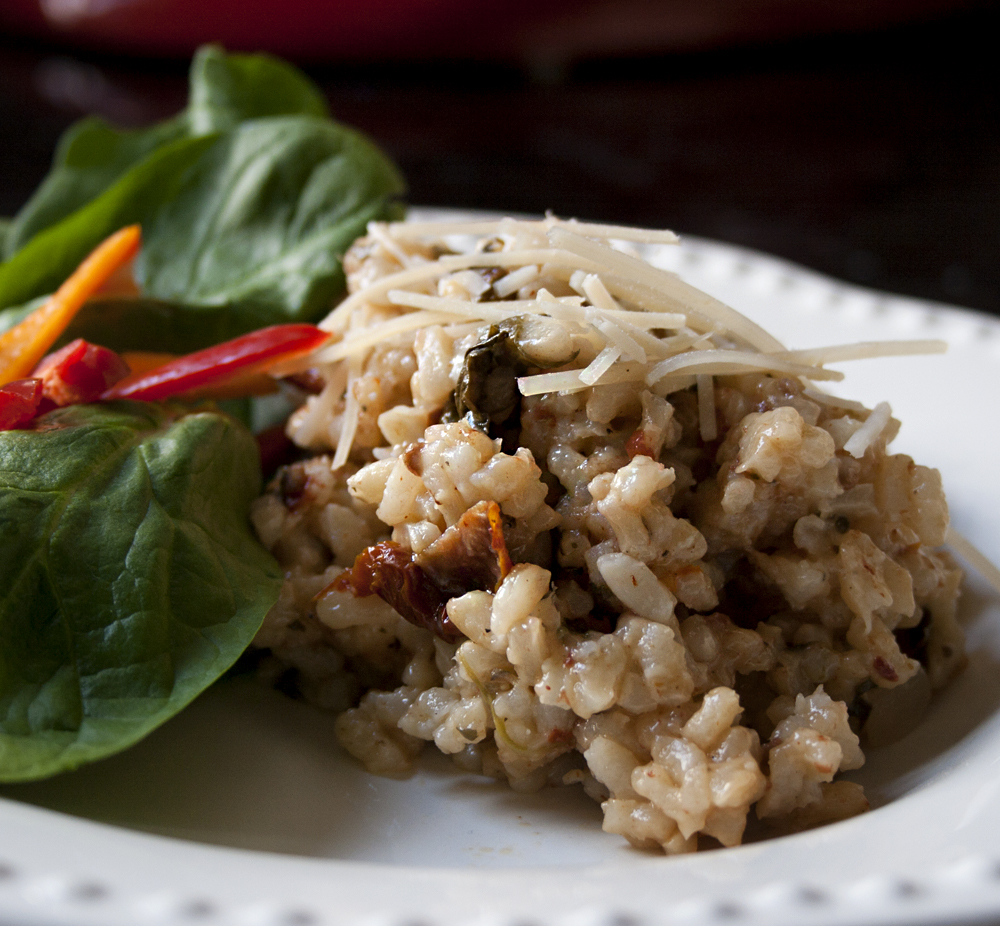 Ingredients
1 tbsp olive oil

1 small onion, finely chopped
3/4 cup arborio rice
1/4 cup white wine (optional)
2 to 2  1/4 cups hot water
1/2 cup vegetable broth
salt and pepper to taste
2 cups fresh spinach leaves
1/2 cup sun dried tomatos, chopped
1/4 cup fresh parmesan cheese
handful fresh basil and parsley (can sprinkle in dried if you do not have fresh)
Directions
Preheat oven to 425 degrees. In an ovenproof dutch oven or large saucepan. If you do not have an oven proof pan, cook as directed and transfer to a baking dish. Heat oil and saute onion until translucent. About 2-3 minutes. Add the rice and cook, stirring until covered with oil, about 1 minute. 

Stir in the wine and cook until completely evaporated. Stir in 1 1/2 cups of water. the broth, salt and pepper. Bring to a boil and add spinach, sun dried tomatos, and fresh herbs. Cook until spinach is wilted. Cover, and transfer to oven and bake until most of the liquid it absorbed by the rice, 20-25 minutes.
Remove from oven and stir in 1/2 to 3/4 cup of water until the risotto is nice and creamy.  Stir in cheese. Serve immediately. This recipe would be great with just about any veggie you have on hand. Mushrooms, asparagus, peppers, fresh tomato, zucchini, anything really!