For Father's Day I made my husband his favorite dish, Cioppino. Cioppino is a seafood stew originating in San Francisco.
It's an Italian-American dish and is typically made with the catch of the day. Or in my case whatever is on special and looks good! I decided on mussels, calamari, cod, shrimp, and crab.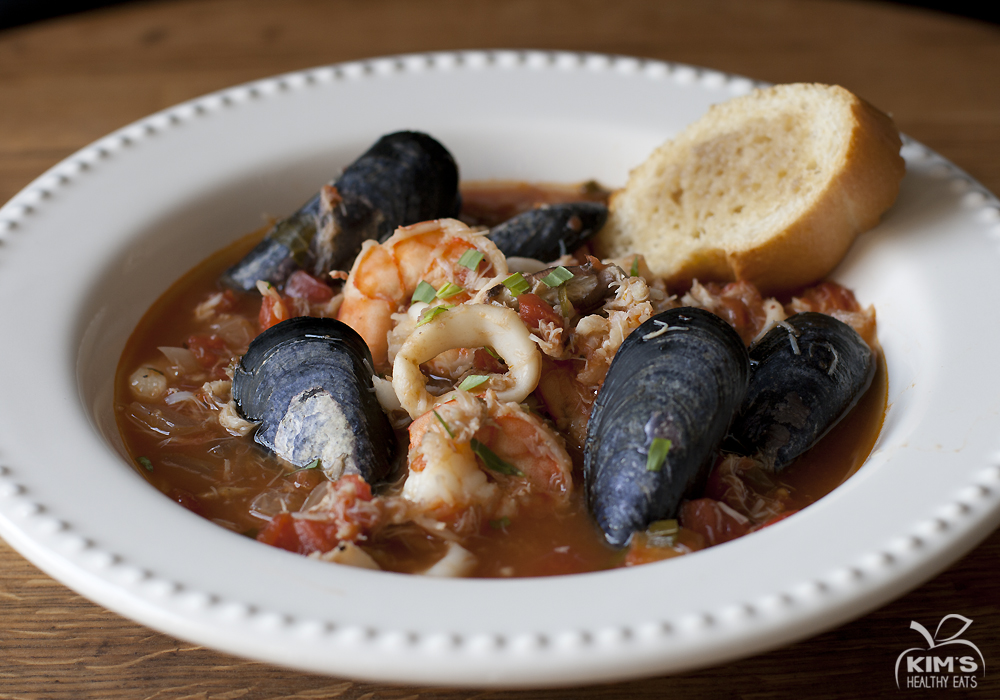 The base of the stew is a white wine and tomato with fresh tarragon and served with a toasted piece of bread. It's a little time consuming to make, but it is so worth it especially for special occasions.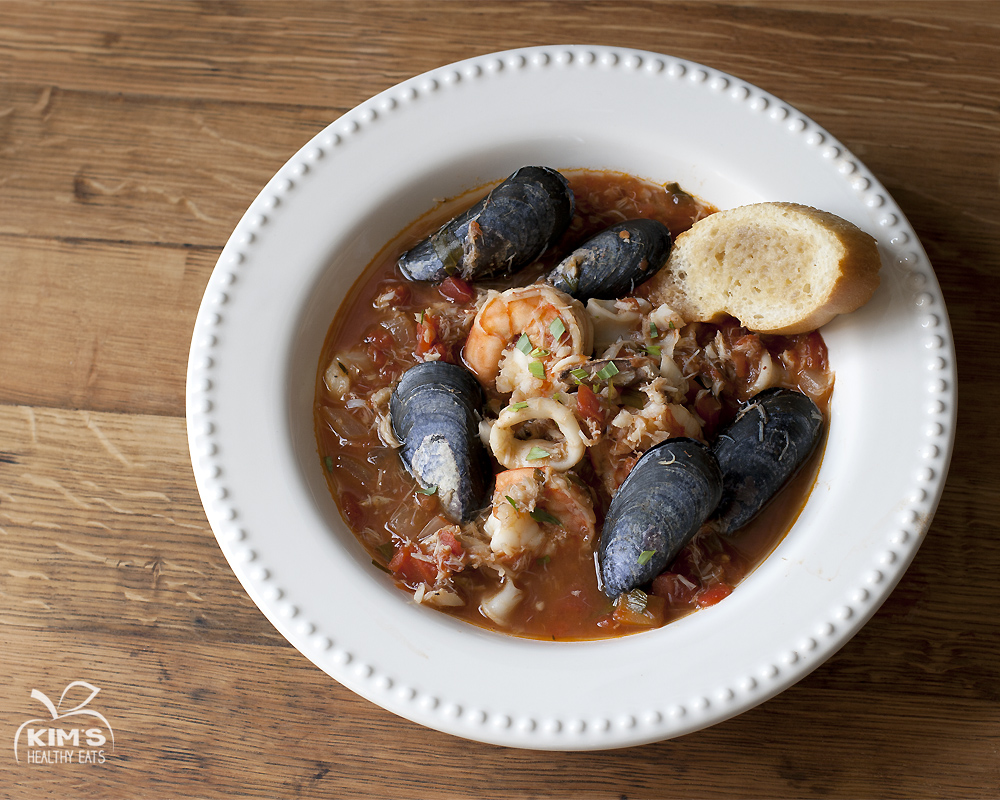 Adapted from Bobby Flay
Ingredients
4 tablespoons olive oil

1 medium onion, finely chopped

5 cloves garlic, minced

1/4 teaspoon red pepper flakes

1 cup dry white wine

5 cups seafood stock, vegetable would work too

1  28 ounce can, petite diced tomatoes, drained

3 tablespoons tomato paste

4 sprigs fresh thyme

Salt and pepper to taste

1 pound fresh cod

25 to 30 mussels, scrubbed and debearded (throw away any that are opened)

1/2 pound shrimp, shelled and deveined

1/2 pound calamari, sliced
1 pound container fresh crab

Few dashes of hot sauce (optional)

1/4 cup fresh tarragon, chopped

2 tablespoons honey

Toasted Bread Ingredients
Baguette or sour dough bread, sliced into 1/2 inch slices
Olive oil for brushing
1 tablespoon anchovy paste, optional
Directions
Heat 2 tablespoons of oil in large Dutch oven over medium high heat.  

Add onion and cook for about 3 minutes.

Add garlic and red pepper flakes and cook for a few seconds.   Add white wine and cook until reduced by half. Add the seafood stock, drained tomatoes, tomato paste, thyme, salt, and pepper. Bring to a boil and cook for about 10 minutes, stirring occasionally.  

While broth is cooking heat 2 tablespoons olive oil in a skillet. Season cod with salt and pepper and sauté until cooked though, about 2-3 minutes per side depending on thickness. Remove from heat and cut into bit sized pieces.

Add mussels, calamari, crab, and shrimp to reduced broth. Cook until mussels open (discarding any that do not open), calamari and shrimp are cooked through about 5 minutes. Gently stir in cod, tarragon, honey, and hot sauce. 
Toasted Bread Directions
Pre heat oven to 350 degrees. Mix olive oil and anchovy paste in a small bowl. Or just brush olive oil onto bread if not using anchovy paste. Brush onto bread and bake for about 4-5 minutes or until bread is nice and toasty.  

Ladle Cioppino over toasted bread and serve. 
Happy Father's Day!